A series of pragmatic and interactive lessons designed to develop functional skills for accessing and utilizing the promise of Digital Health.
A smartphone can be a powerful social and
cognitive aid for patients with mental illness.
DOORS introduces participants to smartphone features
and functions, and serves as a supportive community for
participants to learn and practice new smartphone skills in.
To learn more about the need for and theoretical foundation of DOORS, please read about our experience running DOORS in two distinct settings: a first-episode psychosis program and a clubhouse for individuals with serious mental illness.​
None. We encourage participants, however, to bring their smartphones (or other mobile devices) to each session so that they can practice hands-on learning. We project a powerpoint that offers participants visual aids for skill-building and hand out paper and pencil activities. That said, DOORS is first and foremost discussion-based learning and doesn't require any specific materials.
Yes. We have run multiple iterations of DOORS in the same setting. We find that each group is distinct in its interests, and that because of discussion-based learning and session content varies (even if it highlights the same smartphone skills and features).
Yes, the Division of Digital Psychiatry has run seven digital skills literacy groups thus far. Our partners and collaborators have led these groups five times. Each group provides unique insight on how to improve our program.
Any and all. DOORS was designed to address a need among patients with mental illness. However, the smartphone skills and utilities it highlights are helpful to anyone. The DOORS curriculum is adaptable and can be modified to meet the needs and interests of any given demographic.
Instructors have access to our eight-session curriculum designed to educate participants on beneficial smartphone tools. From experience, we know that not every group is equal. Thus, we provide instructors with the autonomy to edit curriculum material to fit the needs of their class. Instructors are able to customize survey questions, take attendance, edit PPTs, add or remove resources, and create calendar events for their group.
Participants are asked to complete a pre-survey to help instructors gauge the level of understanding their group members have at the start of each session. The post-survey allows instructors and participants to visualize how much improvement has been made on each skill. Data collected from the surveys are also used to highlight the program's impact on the digital literacy skills of participants.
Our multi-session curriculum engages group learning and problem solving to
equip participants with digital skills and online resources that are easy to access,
appealing to use, and relevant to daily life.
Establishing Core Smartphone Skills
– Connecting to Wifi
– Checking the Weather
– Tracking Step Count
– Using a guided meditation app
Managing Responsibilities
– Adding Calendar Events
– Getting directions on a maps app
– Sending a text message
– Finding a job opportunity on LinkedIn
– Finding today's news headlines
– Watching a Youtube video to learn a new skill
– Translating a sentence from one language to another
– Finding an app's privacy policy
– Reading app reviews and ratings
– Creating an account on music streaming platform
– Downloading a game
The Prevention and Recovery in Early Psychosis (PREP) Program
Los Angeles County Department of Mental Heath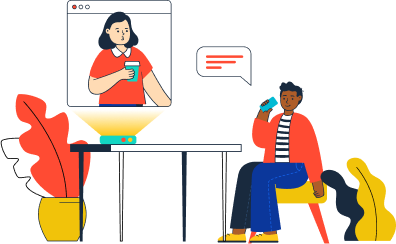 Want to join our program?
As an instructor, you will have the power to make a
difference in your community by leading digital literacy
groups. Sign up below to join our team as an instructor!