A series of pragmatic and interactive lessons designed to develop functional skills for accessing and utilizing the promise of Digital Health.
A smartphone can be a powerful social and
cognitive aid for patients with mental illness.
DOORS introduces participants to smartphone features
and functions, and serves as a supportive community for
participants to learn and practice new smartphone skills in.
To learn more about the need for and theoretical foundation of DOORS, please read about our experience running DOORS in two distinct settings: a first-episode psychosis program and a clubhouse for individuals with serious mental illness.​
Our multi-session curriculum engages group learning and problem solving to
equip participants with digital skills and online resources that are easy to access,
appealing to use, and relevant to daily life.
Establishing Core Smartphone Skills
– Connecting to Wifi
– Checking the Weather
– Tracking Step Count
– Using a guided meditation app
Managing Responsibilities
– Adding Calendar Events
– Getting directions on a maps app
– Sending a text message
– Finding a job opportunity on LinkedIn
– Finding today's news headlines
– Watching a Youtube video to learn a new skill
– Translating a sentence from one language to another
– Finding an app's privacy policy
– Reading app reviews and ratings
– Creating an account on music streaming platform
– Downloading a game
The Prevention and Recovery in Early Psychosis (PREP) Program
Los Angeles County Department of Mental Heath
Digital Skills During
Covid-19
COVID19 has made it increasingly difficult for the mentally ill to access care and continue treatment. In the absence of in-person support, digital literacy is essential for patients to utilize telehealth and other online resources.

The content of the DOORS curriculum can be adapted to meet these new demands and disseminate important news and information related to the coronavirus.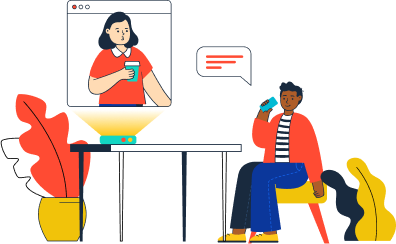 Want to join our program?
As an instructor, you will have the power to make a
difference in your community by leading digital literacy
groups. Sign up below to join our team as an instructor!